From Wiki
Mr Archibald Sim Montgomrey (1843-1922)
Biography
Archibald Sim Montgomrey (1843-1922) He was born in 1843 in Brentford, the son of a wholesale timber merchant. He is described as a timber merchant in most of the census returns, and one also indicates that he was a JP (as does his entry in the Cotteswold Naturalists' Club's proceedings).
He and the family moved around the country between 1840 - 1890 (Ealing, Hillingdon Heath, Heston, Brighton & Isleworth. He married Olivia Maria Coward in 1870. Archibald was left the Brentford premises when his mother died in the early 1900's. Sim was his mother's maiden name. There is a Montgomrey's Wharf in Brentford.
In 1912, his address (as given in the Proceedings of the Club) was Montpellier Grove, Cheltenham.
He was a member of the Cotteswold Naturalists' Field Club, and there are references to him in the Journal of Botany - see H@H message board. He died 12th April, 1922 at Hilperton Rectory, Trowbrdge (where his nephew (?) P C West, was living). Though he is named on several specimen labels at H@H, it is not clear if it is his hand writing or that of HST / or another collector
Inferred associations
associated with
Collection activity by county
1876
1921
VC17
VC21
VC28
VC33
VC34
VC41
VC49
VC55
Examples of handwriting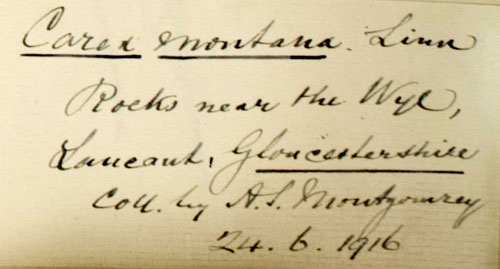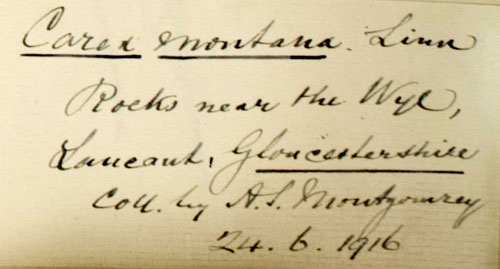 Mr Archibald Sim Montgomrey
references and external links