Beverley Alan Miles
From Wiki
Beverley Alan Miles (17/11/1937-26/1/1970)
Biography
Beverley Alan Miles - a life of early promise sadly cut short.
His particular interests where Rubus and Hieracium.
He suffered from a painful bronchial condition for most of his life.

Born 17th November 1937 Porthcawl, Glamorganshire.
Educated at Bridgend Elementary School and Bridgend Grammar School for Boys.
Started collecting specimens at the age of 7 or 8.
1956 State Scholarship, to St John's College, Cambridge BA in 1959, MA in 1963.
Many visits to University Herbarium during his student days.
October 1959 took up the position of Biology Master at St Mary's Grammar School for Boys at Sidcup.
30th May 1969 appointed Curator at the SLBI, did not take up residence until a month before his death.
December 1969 resigned from teaching post.
Died 26th January 1970.

Obituary Watsonia, 8: 423-424 (1971).
Commemorated in the naming of Rubus milesianus by DE Allen (Five new species of Rubus. Watsonia 25: 157-174 (2004)):

information included from the herbariaunited database
Collection activity by county
1954
1968
VC6
VC17
VC18
VC21
VC41
VC49
VC88
Examples of handwriting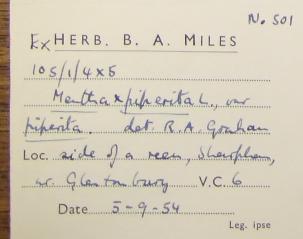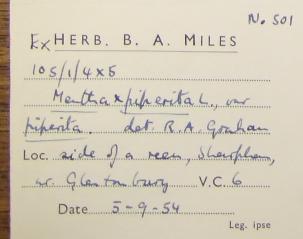 Beverley Alan Miles
A rare example of a BA Miles 'ex herb.' label on a specimen collected when he was 16.
handwriting source
Search for specimens collected by Beverley Alan Miles.
references and external links