Henry Francois Devis
From Wiki
Dr Henry Francois Devis (1862-1938)
Biography

Born 1862, Salford, Lancashire, son of Charles Walter Devis.
1878 asked a question in the Midland Naturalist, whilst living in King's Heath Birmingham.
1881 Captain King Edward's School Birmingham Cricket team.
1883-84 played Rugby Union for Clifton RFC.
1885 attending University College Bristol.
1917 described as Member of the Royal College of Surgeons, Licentiate of the Royal College of Physicians. Captain in RAMC during World War I.
31 December 1925 retired from partnership in medical practice at 160 Wells Rd, Knowl, Bristol.
Died 1938, Penzance, Cornwall.

An older brother, Edwin Charles John Devis, born 1856 in Breame, Somerset, was a civil engineer, who left for New York in 1891 and may have died in 1900 at Cleveland, Ohio.
information included from the herbariaunited database
Inferred associations
collected with
associated with
Collection activity by county
1877
1922
VC1
VC2
VC3
VC5, VC6, VC9
VC17
VC34, VC37, VC38
VC46
VC48, VC49
Examples of handwriting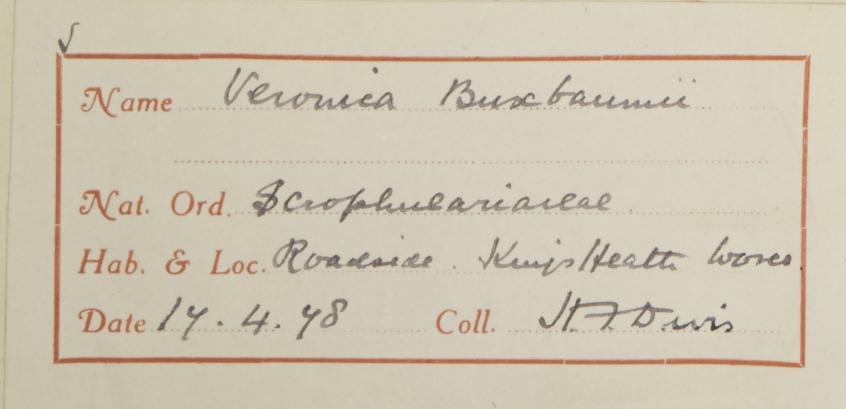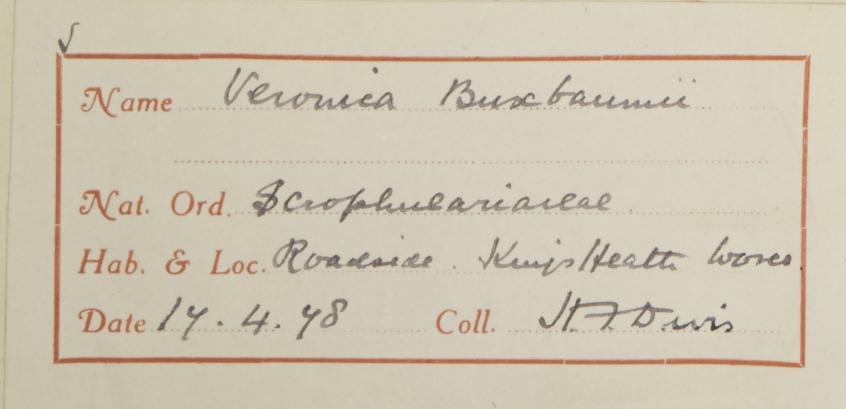 Dr Henry Francois Devis
Typical red-printed label of HF Devis. Specimen collected when he was 16, near his home at King's Heath, Birmingham.
handwriting source
Search for specimens collected by Henry Francois Devis.
references and external links
Kent DH & Allen DE. 1984. British and Irish Herbaria. London.