Herbert Mann Livens
From Wiki
Rev. Herbert Mann Livens (1860-?1946) Herbert Mann Livens 1860-1946
Biography
Herbert Mann Livens was born in (Derby Road) Croydon, Surrey in 1860 (fourth quarter). His father's occupation is recorded on the census as a buyer / wholesale dealer in sugar. He was one of several children (7+ ?). In 1871, he was at the Grammar School at Bishops Stortford (Hadhams ?). He married Kate Nudd in 1885 in Croydon. In 1892 he became the first minister of Unity Church, Deane Road, Bolton. The study of Botany particularly mosses and liverworts became his pastime. He left Bolton in 1900 and took other ministries in Hampshire and the Isle of Wight. (note on the 1901 census, he is recorded as being in Brighton - Southdown Avenue, with 3 children Mary, Wilfred and Robert G).
It was during that time he started to study Lichens. He never forgot his links with Bolton and in 1945, when he was 85, he donated his entire botanical collection, and that of his sister, to Bolton Museum. He died in 1946.
There are images of his moss sheets at the Bolton Museum website - eg. Hypnum riparium
information included from the herbariaunited database
Collection activity by county
1879
1911
VC10, VC11
VC12
VC13
VC14
VC27
VC48
VC52
VC71
Examples of handwriting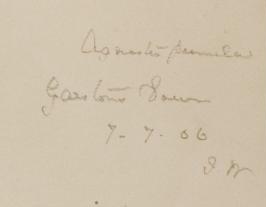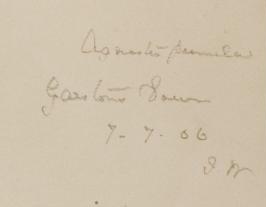 Rev. Herbert Mann Livens
Although many of his sheets now have printed labels here some of the writing remains for Gastons Down Isle of Wight, 7/7/1900.
handwriting source
Search for specimens collected by Herbert Mann Livens.
references and external links