Mary Playne Smith
From Wiki
Mary Playne Smith (-)
Biography
Mary Playne Smith believed to be the daughter of Daniel Smith and Martha Playne, born 1816, Minchenhampton, Gloucs. She died 1877 in Gloucestershire. One of several children. Brothers included several who were solicitors, and one who was a medical student.
In 1851 - 1871 censuses, she was living at High Beeches, Nailsworth (as a member of widowed mother's household, then in household of unmarried brothers William and George Smith).
She formed an herbarium of local plants between 1840 and c. 1850; and drew up a list of plants found in the borough of Stroud for F.F.Fisher's book on Stroud, 1870. In 1945, her herbarium was presented to the Gloucester Museum by Mr G.H.Pavey-Smith. [from 'Flora of Glos.' 1948]
Collector details : quote Kent & Allen (1984) as having "Floreat 1830 - 1885".
information included from the herbariaunited database
Examples of handwriting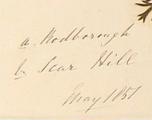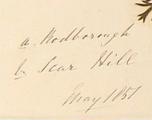 Mary Playne Smith
Label for Mary Playne Smith saying 'a. Rodboroug, b. Scar Hill'. No label so far shows her name or initials.
handwriting source
Search for specimens collected by Mary Playne Smith.
references and external links
Kent DH & Allen DE. 1984. British and Irish Herbaria. London.