William Hodgson
From Wiki
William Hodgson (7/4/1824-27/3/1901)
Biography
Born 7 April 1874 at Raughton Hill near Dalston, Cumberland.
Lived at Watermillock where he was schoolmaster when he was 17.
Later schoolmaster at Aspatria.
Later addresses: 202 Victoria Terrace, Harrington Road, Workington, then Flimby, Maryport.
1884 elected Associate of the Linnean Society.
Botanical Recorder to the Cumberland and Westmorland Association for the Advancement of Literature and Science.
Wrote "Flora of Cumberland", 1898.
Died 27 March 1901 at Workington.

There is a short obituary in J Botany (1901) XXXIX p. 191.

information included from the herbariaunited database
Collection activity by county
Examples of handwriting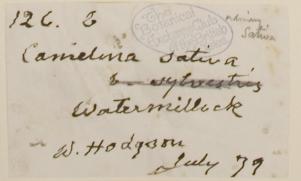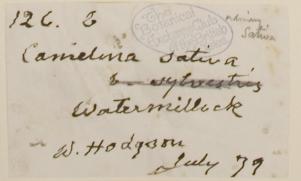 William Hodgson
William Hodgson label showing the location 'Watermillock' where he was a schoolmaster.
handwriting source
Search for specimens collected by William Hodgson.
references and external links
Kent DH & Allen DE. 1984. British and Irish Herbaria. London.