Henry Ibbotson
From Wiki
Mr Henry Ibbotson (1814-12/2/1886)
Biography
Henry Ibbotson, was born at Ganthorpe, near Castle Howard, Yorkshire. He was the son of the gardener, John Ibbotson and his wife, Elizabeth. Richard Spruce (1817–1893) was his contemporary in Ganthorpe ; Spruce went on to become one of the great Victorian explorers (in South America see Wikipedia). See Spruce's article entitled "Three days on the Yorkshire Moors" page 101 -
In 1851, the census records him as living in Ganthorpe with his sister Elizabeth and mother (widowed), and he is described as a 'botanist'.
In the 1861 census, he is recorded as a gardener at Castle Howard Reformatory School (Welburn). He produced "The Visitor's Guide to Castle-Howard: The Seat of the Rt. Hon. The Earl of Carlisle". Interestingly, some of Mudd's specimens were collected from Castle Howard by Ibbotson:-
He contributed to Henry Baines' Flora of Yorkshire (1840) and to J. G. Baker's works. He also prepared and published 'Rarer plants near Castle Howard' - The Phytologist 1844).
His main work was "A catalogue of the phaenogamous plants of Great Britain", which came out in parts between 1846 to 1849'
His 'last' contribution was probably a booklet / pamphlet on "The ferns of York" in 1884. He sold specimen sets of the rarer plants of the northern counties. The 1881 and 1891 censuses record him variously as a botanist / gardener and lodger / boarder in York.
information included from the herbariaunited database
Inferred associations
associated with
Collection activity by county
1838
1884
VC1
VC4
VC14, VC15
VC26, VC28
VC33
VC54
VC59, VC61, VC62, VC63, VC64, VC65, VC66, VC69
VC83, VC85, VC87, VC88, VC89, VC90, VC92
Examples of handwriting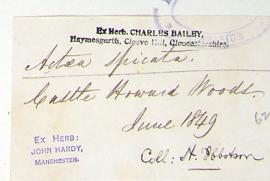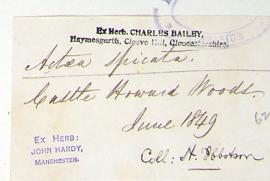 Mr Henry Ibbotson
I have found many labels with this writing, one implying HI lived at Ganthorpe; though as here, in none is it explicit that HI wrote the label.
handwriting source


Mr Henry Ibbotson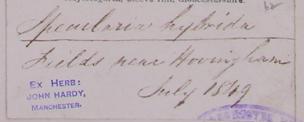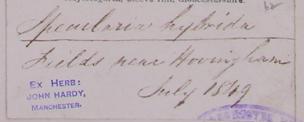 Mr Henry Ibbotson
David Price points out that Ibbotson characteristically underlines the species name
handwriting source
Search for specimens collected by Henry Ibbotson.
references and external links