Frederick Townsend
From Wiki
Mr Frederick Townsend F.L.S (5/12/1822-16/12/1905)
Biography
Born 5 December 1822 Rawmarsh, Yorkshire, son of Rev. Edward James Townsend, rector of Rawmarsh, later of Ilmington, near Honington, and grandson of Mr Gore Townsend of Honington, Warwickshire.
Educated Harrow, and Trinity College, Cambridge, BA 1850, MA 1855.
He became acquainted with Charles Cardale Babington, and William Williamson Newbould, their first botanical ramble together being recorded in the journal of the former as on 28th May, 1847, when they went by train to Whittlesford. Remained a close friend of Newbould until the latter's death in 1886.
1863 Married Mary Elizabeth Butler.
1865 Living at Shedfield Lodge, Wickham, Hampshire.
1865 - 1874 Worked on Flora of Hampshire, while living in the county, published 1883.
1874 On death of uncle, Rev. H. Townsend, succeeded to family estate at Honington Hall, Warwickshire.
1886 - 1892 MP for Stratford-on-Avon, and frequented the National Herbarium at the British Museum during visits to London.
Died 16 December 1905, Cimiez, Nice. Herbarium and botanical books left to Allan Octavian Hume.

1846 Fellow of the Botanical Society of Edinburgh.
1878 FLS.

Obituary in the Journal of Botany, 44, (1906) pp. 113 - 115.

information included from the herbariaunited database
Inferred associations
associated with
Collection activity by county
1837
1904
VC1
VC3, VC4, VC6, VC9
VC46, VC49
VC10, VC11, VC12, VC13, VC14, VC15, VC16, VC17, VC19, VC20, VC21, VC22, VC23, VC24, VC25, VC26, VC27, VC28, VC29, VC30, VC31, VC32, VC33, VC34, VC36, VC37, VC38, VC55, VC56, VC57
VC58, VC59, VC62, VC63, VC64, VC66, VC69, VC70
VC71
VC72, VC83, VC86, VC87, VC88, VC98
VC90, VC91, VC92, VC93, VC96, VC97, VC105, VC108, VC109
Examples of handwriting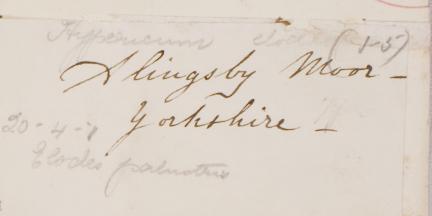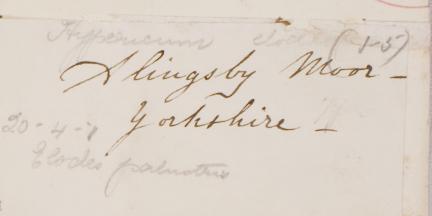 Mr Frederick Townsend
label shows Townsend's 'neat' script - black ink - and his 'curly' script in pencil, seen in his annotations (inference from many sheets - needs confirmation)
handwriting source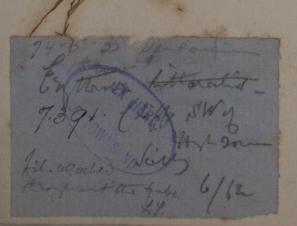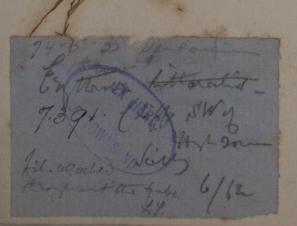 Mr Frederick Townsend
Showing his 'scruffy' script; also 'curly' script (the pencil annotations); and seemingly his 'neat' script (the number 7391)
handwriting source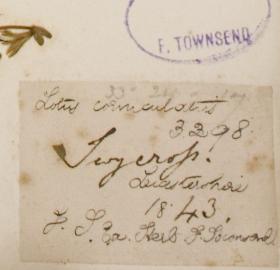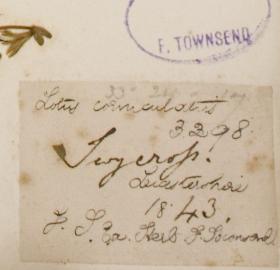 Mr Frederick Townsend
Twycross in Townsend's neat script, later notes in 'curly' script
handwriting source
Search for specimens collected by Frederick Townsend.
references and external links