James Ponsonby Brunker
From Wiki

James Ponsonby Brunker (17/10/1885-14/11/1970)
Biography
A good ornithologist, and leading member of the Dublin Naturalists' Field Club.

Born 17 October 1885 at Minmore, St Kevin's Park, Dublin.
Worked for Arthur Guinness & Co. of Dublin, 1906-1945.
1909 Began a life-long association with the Boy Scout movement.
1950 Published "Flora of the County Wicklow: Flowering plants, higher cryptograms and characeae".
1957 elected a member of the Royal Irish Academy.
Died 14 November 1970 after being involved in an accident with a car whilst on a field trip to Bull Island.

information included from the herbariaunited database
Inferred associations
associated with
Examples of handwriting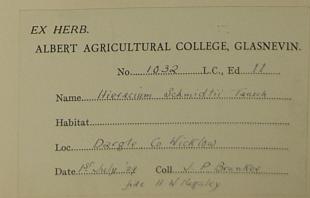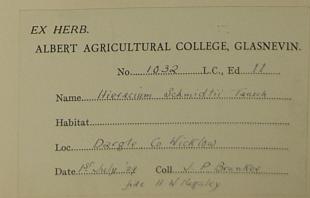 James Ponsonby Brunker
A typical label from the herbarium of the Albert Agricultural College, Glasnevin.
handwriting source
Search for specimens collected by James Ponsonby Brunker.
references and external links
Kent DH & Allen DE. 1984. British and Irish Herbaria. London.