John Hutton Balfour
From Wiki
Prof John Hutton Balfour MD FLS FRS (15/9/1808-11/2/1884)
Biography
John Hutton Balfour FRS (1808-1884) Professor of medicine and botany, regius keeper of RBG, Edinburgh; enthusiastic leader of strenuous botanical student excursions, nicknamed 'Woody Fibre'; founding member Botanical Society of Edinburgh.
information included from the herbariaunited database
Inferred associations
associated with
Collection activity by county
1827
1884
VC6, VC7
VC49
VC59, VC61, VC62, VC63, VC64, VC65
VC81, VC82, VC83, VC84, VC85, VC87, VC88, VC89, VC99
VC72, VC73, VC74, VC75, VC100
VC102
VC90, VC92, VC93, VC96, VC106
VC104, VC110
Examples of handwriting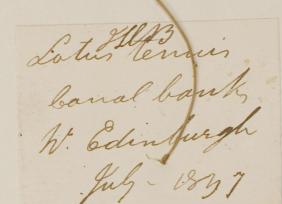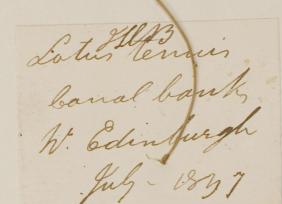 Prof John Hutton Balfour
"I can confirm that the handwriting in image attached is that of John Hutton Balfour. His handwriting got worse as his correspondence and published works increased" from Graham Hardy Serials Librarian Library Royal Botanic Garden Edinburgh via Chris Liffen.
handwriting source
references and external links