Alfred Fryer
From Wiki
Mr Alfred Fryer A.L.S (25/12/1826-26/2/1912)
Biography
Through school, formed friendships with Henry Walter Bates (explorer / batesian mimicry) and Alfred Russel Wallace. Initially interested in butterflies, molluscs and birds but gradually developed an interest in the local flora - around Chatteris. Then became interested specifically in pond weeds (Potamogeton), which occured in considerable diversity in the waterways around Chatteris. Followed their growth / development throughout the seasons and even grew them in his garden. Elected to fellowship of Linnean Society. Started on 'The Potamogetons (pond weeds) of the British Isles', which was completed after his death by Arthur Bennett.
The Oxford Dictionary of National Biography has an article on Alfred Fryer.

Journal of Botany, 1913 pp. 105-110, has a full and detailed obituary by A. H. Evans and James Britten.
information included from the herbariaunited database
Inferred associations
collected with
associated with
Collection activity by county
1854
1909
VC3
VC17
VC28, VC29, VC31
VC33
VC36, VC42
VC48
VC55, VC57
VC58
Examples of handwriting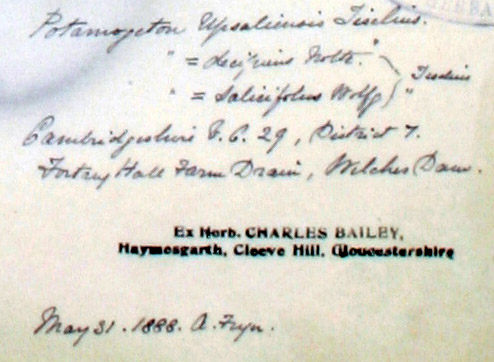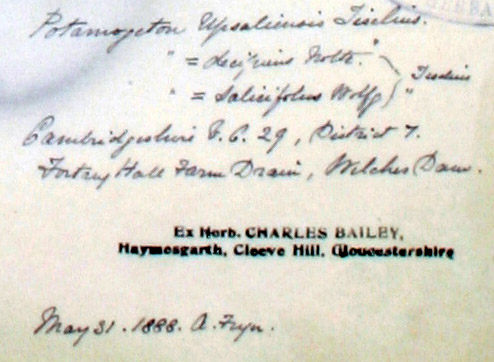 Mr Alfred Fryer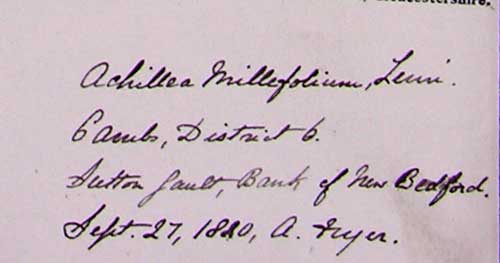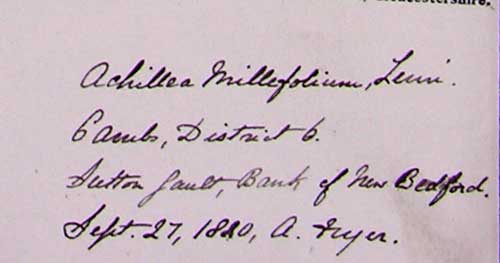 Mr Alfred Fryer
Search for specimens collected by Alfred Fryer.
references and external links