William Hadden Beeby
From Wiki
Mr William Hadden Beeby F.L.S (9/6/1849-4/1/1910)
Biography
Born on 9th June 1849.
1866 Aged 17 was collecting plants in the Croydon area of Surrey, his home town, and had commenced his banking employment in the City of London.
1871 Founder member of Croydon Microscopical Club.
1878 Member of the Botanical Sub-committee of the Croydon Natural History and Scientific Society (then Croydon Microscopical and Natural History Club).
1886 First visit to Shetland Islands; continued to make summer visits for at least 20 years.
1887 Elected ALS. 1892 married Florence Emma Hardcastle, and moved to Thames Ditton, Surrey.
Died 4th January 1910.
Obituary: Journal of Botany (1910) 48 121-123.
Date Formats
Below are examples of numbers as written by Beeby, including the '7' beginning with a small serif:


During the 1870s, when writing the year, he had the habit of joining the '8' to serif of the following '7' in such a way that the latter looked like a '9', thus causing confusion with dates in the 1890s. Compare, below, 7th July 1872 with 7th August 1891:


A useful clue is that, generally, in the 1870s Beeby wrote out month names, but by the 1890s had adopted month numbers.

During the 1870s Beeby labeled several sheets with the year as '187_' (e.g.sheet 396199; below):

Such dates have been recorded in the form '4/6/1870 to 4/6/1879'. It seems unlikely that Beeby inteded '1870' as there are sheets (e.g. 316676) where he writes this unambiguously.

information included from the herbariaunited database
Inferred associations
collected with
associated with
Collection activity by county
1862
1908
VC1, VC2, VC3, VC4
VC6, VC9, VC34, VC36
VC49
VC11, VC12, VC13, VC14, VC15, VC16, VC17, VC18, VC19, VC21, VC22, VC23, VC24, VC25, VC26, VC27, VC29, VC32, VC38, VC53
VC61
VC88, VC92, VC95
VC106, VC107, VC108, VC109
VC112
Examples of handwriting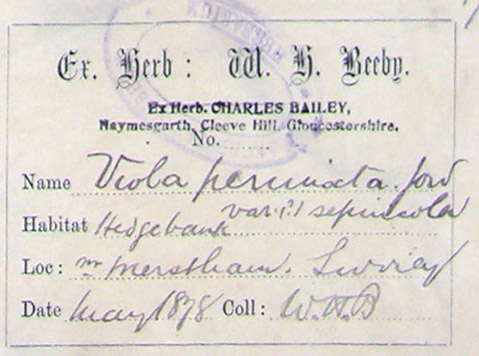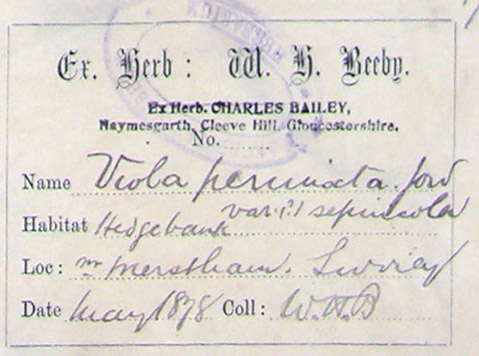 Mr William Hadden Beeby


Mr William Hadden Beeby
Search for specimens collected by William Hadden Beeby.
references and external links