William Gardiner
From Wiki
Mr William Gardiner Jnr (13/7/1808-21/6/1852)
Biography
Born in Overgate, Dundee, 13 July 1808. His father, also William, was also a botanist.
Worked as a hosier and umbrella maker, as well as collecting and selling botanical sepcimens. Friend of William Jackson, another Dundee botanist.
Author of Flora of Forfarshire 1848.
Died Dundee, 21 June 1852.

information included from the herbariaunited database
Inferred associations
associated with
Collection activity by county
1820
1851
VC72
VC85
VC87
VC88, VC89
VC90
VC91, VC92
VC93
VC96
Examples of handwriting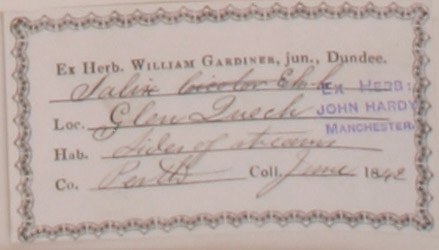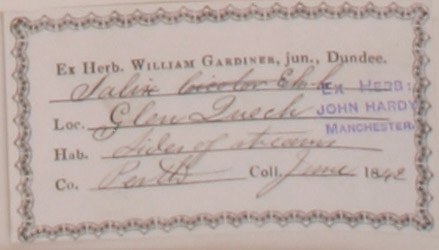 Mr William Gardiner
Search for specimens collected by William Gardiner.
references and external links