Benjamin Thompson Lowne
From Wiki
Benjamin Thompson Lowne jnr junior (1878-1956)
Biography
Benjamin Thompson Lowne (1878-1956), born in Finchley, London, died in Worthing, Sussex. An electrical engineer who studied the flora of Sussex.

He cultivated many specimens, first at Catford, and later (after the 1920s) at Worthing.

He was the nephew of Benjamin Thompson Lowne (1839-1925) floreat 1862-1864 (round the world voyage 1862 including time in Australia), who in turn was the son of a Benjamin Thompson Lowne a doctor, who moved to London to train at Barts Medical College in 1842.

Lowne's Numbers.
Many of Lowne's labels are written in a beautiful copper-plate hand, though he frequently omitted his name. Beside collector's numbers there may be others on labels, often relating to the taxon.

George Bentham published "Handbook of the British Flora" in 1858. Bentham died in 1884 and the 6th edition of this work in 1896 is described as "revised by Sir JD Hooker" (Joseph Dalton Hooker). It appears that this is the source of the numbers stamped next to family names on some Lowne labels. In this later edition a number is also given for the figure associated with each species in the companion volume "Illustrations of the British Flora", by WH French and WG Smith *. The figure numbers run consecutively, without respect to family, and those in the fourth edition (1897) are those that are similarly stamped next to the binomial on Lowne sheets.

"The London Catalogue of British Plants" (Frederick Janson Hanbury ; 10th edition, 1908) numbers families, genera, and species, each independent of the others. This Catalogue can be the source of other numbers on Lowne's labels.

As an example "SCROPHULARINEAE Digitalis purpurea L." (see image below) is family 56, figure 749 in the Handbook, and family/genius/species 55.315.1239 in the Catalogue. This is as recorded on sheet 370275. The label gives the collection date as 7th June 1901, that is some seven years before the publication of the 10th edition of the Catalogue, suggesting that the writing of the label was far from contemporaneous with collection.


Walter Hood Fitch (1817-1892) & George Worthington Smith (1835-1917). Revised issue of 1919 available ON-LINE.


information included from the herbariaunited database
Inferred associations
associated with
Collection activity by county
1898
1952
VC1
VC2
VC10, VC11, VC12, VC13
VC14, VC15, VC16, VC17, VC18, VC21
VC44
VC48, VC50
VC52
VC66
Examples of handwriting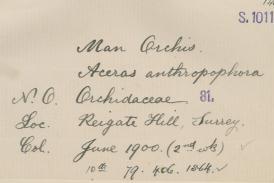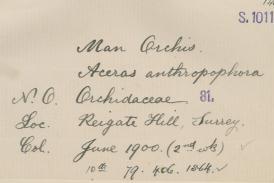 Benjamin Thompson Lowne jnr
sheets labelled in this style (note format of date) are anonymous, but handwriting seems identical to other Lowne sheets of the time
handwriting source
Search for specimens collected by Benjamin Thompson Lowne jnr.
references and external links
Kent DH & Allen DE. 1984. British and Irish Herbaria. London.