Charles Cardale Babington
From Wiki
Prof Charles Cardale Babington FRS, FLS (23/11/1808-22/7/1895)
Biography
Babington's signature on a letter dated 30th May 1890, from his home at 5 Brookside, Cambridge:

Influential field botanist and taxonomist; archaeologist; cousin of the historian Lord Macauley; succeeded John Stevens Henslow as professor of botany at Cambridge. Author of Manual of British Botany (1843) and Synopsis of the British Rubi (1846) which made study of the genus fashionable. When an undergraduate, collected Coleoptera and was nicknamed 'Beetles'; when professor, Elodea canadensis was nicknamed 'Babingtonia pestifera' after him. Encouraged Hugh Neville Dixon in his botanical interests.
His early botanising companions at Cambridge included William Williamson Newbould and Frederick Townsend. All three often used a date style of 'month/day. year' which can cause confusion. Here Babington writes 6/8. 1847 for 8th June 1847, NOT 6th August, as confirmed by his Journal page 139 (sheet 385254):
His cousin Churchill Babington was also a botanist. In 'Memorials Journal and Botanical Correspondence of Charles Cardale Babington' Rev. H.C.G. Moule says of Babington (page lx) "It is generally known that his antiquarian knowledge was second only, if second, to his botanical. It used to be pleasantly said of him and of his cousin, Churchill Babington, when the latter was Disney Professor of Archaeology, that either might well occupy the chair of the other."
Key Dates
Born 23 November 1808, at Ludlow, Shropshire.
Educated at Charterhouse School.
1825 Joined St John's College, University of Cambridge.
1830 BA; 1833 MA.
1835 FLS, FGS.
1851 FRS.
1859 FSA.
1861 Succeeded John Stevens Henslow as Professor of Botany, University of Cambridge.
3 April 1866 married Anna (Annie) Maria Walker (-19 May 1919) at Walcot Church, Bath.
Died 22 July 1895, at Brookside, Cambridge.

| | |
| --- | --- |
| Charles Cardale Babington's grave, Cherry Hinton Churchyard, Cambridge. | |
Read the Memorials, Journal and Botanical Correspondence of Charles Cardale Babington on-line.
Babington has a detailed entry in the Oxford Dictionary of National Biography.

information included from the herbariaunited database
Inferred associations
associated with
Collection activity by county
1827
1880
VC1
VC10, VC13, VC16, VC20, VC21
VC19, VC25, VC26, VC27, VC28, VC29
VC3, VC5, VC6, VC8, VC34, VC36
VC45, VC46, VC47, VC48, VC49, VC52
VC39, VC40, VC55, VC59, VC60, VC61, VC64
VC68, VC81, VC83
VC87, VC88, VC90, VC95, VC97, VC98, VC99, VC106
Examples of handwriting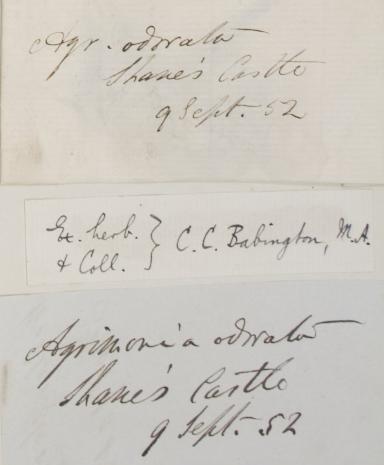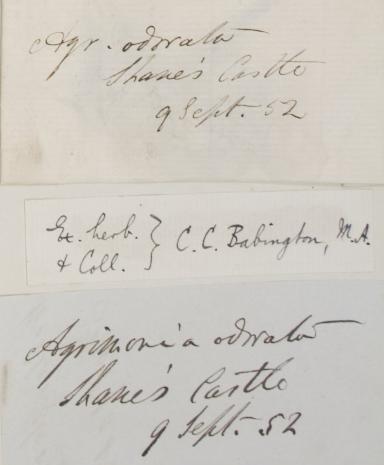 Prof Charles Cardale Babington
Babington's original labels with a later addition of 'Ex. herb. & Coll.'
handwriting source
Search for specimens collected by Charles Cardale Babington.
references and external links