John Gilbert Baker
From Wiki
John Gilbert Baker F.R.S., F.L.S (13/1/1834-16/8/1920)
Biography
Born in Guisborough, father Edmund Baker.
Bootham School - nursery of quaker naturalists (to quote D E Allen 'The Botanists').

Worked in his father's drapery and grocery business in Thirsk (many H@H sheets of his are from Thirsk or that area).

Home of the 'Thirsk Botanical Exchange Club' for some 8 years (derived from the London Botanical Society). In 1864, the Baker premises consumed by fire. The family lost their home and shop, and Baker his botanical library, herbarium specimens and the reports/records of the Thirsk botanical society. After a stay with William Borrer in Sussex, J D Hooker invited him to take up a position at Kew, so he worked in the herbarium there as First assistant.

He also acted with Trimen as joint Curator of the London Botanical Exchange Club, and they also edited the Journal of Botany. He worked at Kew for many years, and from 1890-1899 as Keeper. He published a Flora of Mauritius and the Seychelles, a Flora of the Lake District, & a Flora of Northumberland and Durham (?).


Information from Allen, D. E. 1986
Allen, David Elliston. 1986. The botanists. A history of the Botanical Society of the British Isles through a hundred and fifty years. Winchester: St Paul's Bibliographies.
information included from the herbariaunited database
Inferred associations
collected with
associated with
Collection activity by county
1846
1915
VC1
VC3, VC5, VC6
VC11, VC12, VC14, VC15, VC16, VC17, VC21, VC22, VC23
VC28
VC34, VC36, VC38, VC39, VC43, VC49, VC57, VC58, VC59
VC61, VC62, VC64, VC65, VC66, VC67, VC69, VC70
VC68, VC81, VC83, VC85, VC88, VC90, VC91, VC92
VC111
Examples of handwriting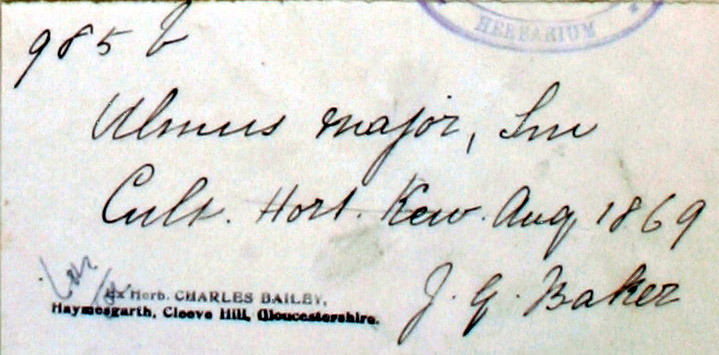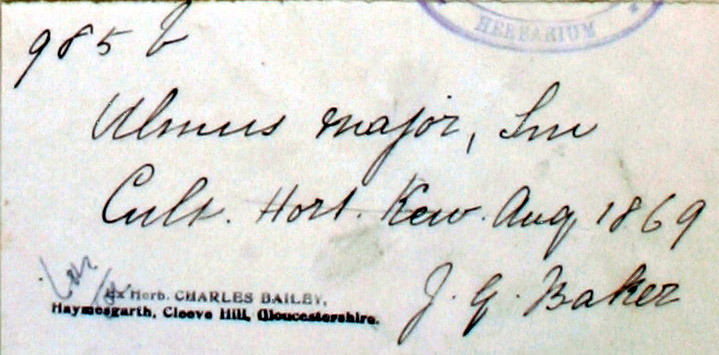 John Gilbert Baker
Search for specimens collected by John Gilbert Baker.
references and external links